As of this writing, NCAM's captioning method is applicable only for QuickTime movies created on the Macintosh. To the best of our knowledge, current movie software for the PC is not capable of adding text tracks to video clips. However, it is possible to convert a Macintosh-captioned movie to one which is playable on the PC. I will provide the details shortly.

To caption video clips on a Macintosh, NCAM used a Mac Quadra 610, operating under System 7.5. Software included MoviePlayer version 2.1 or higher, two plug-ins "Authoring Extras" and "Goodies", and a word processor with drag-and-drop capability, such as SimpleText. Also on hand was areference source QuickTime(TM): The Official Guide for Macintosh(R)Users (authored by Judith L. Stern and Robert A. Lettieri and published by Hayden Books in 1994).

A QuickTime movie is made up of separate video and audio tracks. Depending on the player being used, these tracks may be turned on and off by the viewer. Because the tracks are discrete, there may be multiple audio and video tracks, any number of which may be selected by the user. For example, a QuickTime video clip may contain one video track and separate audio tracks in English, French, and German. A user would select the appropriate language track at the time of playback.

In addition to video and audio tracks, a separate text track may be added to the clip. This text track becomes, for our purposes, a caption track. Again, depending on the player being used by the viewer, the captions may be turned on and off, thus simulating broadcast closed captioning. If a player is not capable of turning the tracks on and off, the text track becomes, in essence, open captions which cannot be turned off.

A captioned video clip, therefore, contains the normal video and audio tracks plus the additional text track. Unlike broadcast captions, which obscure a portion of the visible picture, captioned video clips display their text track in a small window below the video. Also, while broadcast captions are limited to a maximum of four rows in a single caption, the number of rows available in a single text-track caption is virtually limitless. In its experiments, NCAM was able to fit 19 rows of text below a video clip before running out of space on the computer monitor. However, displaying more than three rows of text at once may prove impractical as the viewer may have difficulty reading the captions and keeping up with the video.

To the right is a single frame of a captioned video clip. The whole clip, plus five other clips (for both Macintosh and PC), may be viewed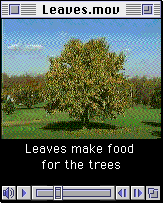 at the Web Access Project's captioning page

. All the video clips are accompanied by a transcript of the audio track.