To try to understand life solely on the basis of the old laws of physics and chemistry, would be an enormous, crippling mistake; you couldn't talk about the most obvious things, like sex or aging or digestion or species or parasites, since those are all biological concepts that have no place in physics or chemistry. The parallel I want to draw is that the new kinds of connection that the Net and cyberspace make possible also demand a whole new way of thinking if you are to understand what is going on between people, the kinds of organized effort that are now possible, the motivations that most matter, and a host of other facets of life.
This analogy is imperfect in one way though. I don't mean to imply that the new concepts of economics we need come on top of or in addition to the old concepts. Rather, economics is about the overall patterns of effort and motivation that shape our lives, and it is these patterns and motivations that are changing. That implies a wholly new set of economic laws that replace the ones we all have learned.
Contemporary economic ideas stem from that selfsame market-based industrialism, which was thoroughly different from the feudal, subsistence-farming-based economy that preceded it. We tend to think, as we are taught, that economic laws are timeless. That is plain wrong. Those laws hold true in particular periods and in a particular kind of space. The characteristic landscape of feudalism, dotted with small fields, walled villages, and castles, differs markedly from the industrial landscape of cities, smokestack factories and railroads, canals, or superhighways. The "landscape" of cyberspace exists only in our minds, perhaps, but even so it is where we are increasingly coming to live, and it looks nothing like either of those others. If cyberspace grows to encompass interactions between the billions of people now on the planet, those kinds of interaction will be utterly different from what prevailed for the last few centuries, or ever before [ 2 ].
If you want to thrive in this new world, it behooves you not to mistake it for a place where the dukes and earls of today will naturally continue to prosper, but rather to learn to think in terms of the economy natural to it [ 3 ].
The New Natural Economy
So, at last, what is this new economy about? Well if the Net exemplifies it, then you might guess it has less to do with material things than with the kinds of entity that can flow through the Net. We are told over and over just what that is: information. Information, however, would be an impossible basis for an economy, for one simple reason: economies are governed by what is scarce, and information, especially on the Net, is not only abundant, but overflowing. We are drowning in the stuff, and yet more and more comes at us daily. That is why terms like "information glut" have become commonplace, after all. Furthermore, if you have any particular piece of information on the Net, you can share it easily with anyone else who might want it. It is not in any way scarce, and therefore it is not an information economy towards which we are moving. What would be the incentive in organizing our lives around spewing out more information if there is already far too much?

Well, my title gives it away, of course. There is something else that moves through the Net, flowing in the opposite direction from information, namely attention. So seeking attention could be the very incentive we are looking for. Parenthetically, I have now rejected both parts of the conference title; no economics in the conventional sense, and not digital information either. You might conclude I am speaking at the wrong conference. I would rather say it has the wrong title. Except the title did serve its purpose. It did get your attention, and that was something, in fact a lot.

Attention, at least the kind we care about, is an intrinsically scarce resource [ 4 ]. Consider yours, right now. You are reading this paper, or more likely, since it is intended to be delivered at a conference, listening to me speaking it. You have a certain stock of attention at your disposal, and right now, a large proportion of the stock available to you is going to me, or to my words. Note that if I am standing in front of you it is difficult to distinguish between paying attention to me and paying attention to my words or thoughts; you can hardly do one without doing the other. If you are just reading this, assuming it gets printed in a book, the fact that your attention is going to me and not just to what I write may be slightly less obvious. So it is convenient to think of being in the audience at this conference in order to consider what attention economics is all about.

First of all, if this talk is not a total bust, at this moment I am getting attention from a considerable audience. There is a net flow of attention towards me. If this is a reasonably polite group, there may be no great competition for your attention at the moment, but nonetheless, if there were, you would have to choose, or someone else, say the chair, would. The assembled audience cannot really pay attention to very many people speaking at once, usually not to more than one, in fact. Which is another way to say that the scarcity of attention is real and limiting.

Now this might not matter if attention were not desirable and valuable in itself, but it is. In fact, it is a very nice feeling to have respectful attention from everybody within earshot, no matter how many people that may include. We have a word to describe a very attentive audience, and that word is "enthralled." A thrall is basically a slave. If, for instance, I should take it in my head to mention panda bears, you who are paying attention are forced to think "panda bears," a thought you had no inkling would come up when you decided to listen to this talk. Now let me ask, how many of you, on hearing the word "panda" saw a glimpse of a panda in your imagination? Raise your hands, please. Thank you. ... A ha.

What just happened? I had your attention and I was able to convert it into a physical action on some of your parts, raising your hands. It comes with the territory. That is part of the power that goes with having attention, a point I will have reason to return to. Right now, it should be evident that having your attention means that I have the power to bend your minds and your bodies to my will, within limits that in turn have to do with how good I am at enthralling you. This can be a remarkable power. When you have superb control over your own body, so that you can perform great athletic feats, it feels great; likewise, it feels good when your mind feels focused and powerful; how much more wonderful then to be able to have the minds and bodies of others at your disposal! On the rather rare occasions when I have felt I was holding an audience "in the palm of my hand, hanging on my every word," I have very much enjoyed the feeling, and of course others who have felt the same have reported their feelings in the same terms. The elation is independent of what you happen to be talking about, even if it is to decry something you think is horrible.

A Driving Force
This is not a particularly huge audience, but it is possible to enthrall any number of people if you can reach them and if you are good enough at it. So having attention is very, very desirable, in some ways infinitely so, since the larger the audience, the better. And, yet, attention is also difficult to achieve owing to its intrinsic scarcity. That combination makes it the potential driving force of a very intense economy.

Of course, not everybody necessarily wants a great deal of attention, just as in a money economy not everybody wants a great deal of money or many of the material goods that money can buy. But, just as in a money economy practically everyone must have some money to survive, so attention in some quantities is pretty much a prerequisite for survival, and attention is actually far more basic. This has always been the case for tiny babies. About the only thing they can get for themselves, or can give, is attention, which they begin to do within a half hour of birth, by smiling at those who smile at them. Without attention an infant could never satisfy its material needs, for food, warmth, fresh diapers, being burped, and so on. At a slightly later stage infants and toddlers need attention if they are to develop any sense of themselves as persons, and neither of those needs ever completely goes away. So even if you do not especially make a point of reaching for attention, even if you are very shy and reclusive, you still probably cannot do without some minimum, which however reluctantly, you may have to fight for. And no matter how humble you now may be, at some time in your own childhood you certainly sought attention, or you wouldn't be here.

As we move towards an attention economy in a fuller sense, the ethos of the old economy which makes it often bad taste or a poor strategy to consciously seek attention seems to be giving way to an attitude that makes having a lot of attention rather admirable and seeking it not at all to be frowned upon. Think of the sorts of things people are now willing to admit about themselves just to get on the likes of Oprah or the Sally Jesse Raphael show. Even the President of the United States is willing to discuss his underwear on nationwide television.

But I am running a bit ahead of myself. Before saying more about the workings of the attention economy and its ramifications, I have to offer you a bit more of an idea about how to view different situations in terms of the exchange of attention. Earlier I suggested that when information flows one way through the Net, attention has to be flowing the other. Now I want to say that it would be even better to think in terms of attention of some kind flowing both ways.

Consider an ordinary conversation. You could describe it as the exchange of information, but except in a highly technical sense that is rarely a very accurate description of what takes place. A conversation is primarily an exchange of attention. When you say "how are you?" for instance, you don't really want to know, as a rule, but if whomever you're talking with chooses to say how he or she is, it is more to get attention from you than to convey information. Even if this person genuinely thought you did want to know about her/his health, in answering, s/he would be attempting to pay attention to you. And even if you, in turn genuinely did want to know, the usual reason would be to pay attention to her/him.

Information, in the sense of something not previously known to one of the parties or another is secondary, if present at all. If I want your attention for any reason, I might begin by asking you for information, such as who you are and what you do, not necessarily because that is of great interest to me, but because it is a good way to get your attention. Children ask countless questions with this motive often patently obvious, and adults are not necessarily any different. Even if I am desperately searching for some fact that you happen to know, to get it from you I first have to get your attention. So what really matters in every conversation is the exchange of attention -- an exchange that normally must be kept more or less equal if one party or the other isn't likely to lose interest.

Illusory Attention
Now, let us come back to the example of this conference, in fact the very interchange going on between me and you at this moment. If you are still paying attention, it is at least in part because what I am saying interests you; that is, to some extent I am addressing some need or desire that you now have. Thus it appears, in a certain sense that I am paying each of you attention individually, even though I can't really be doing that. Of course, in this setting it helps that I have some idea of why you are here, but I obviously am not in a position to focus on your individual needs. If just the two of us were having a conversation, rather than my standing up here and reading this paper to this whole audience, you would be quite rightly incensed if instead of pausing to answer your questions or seeing whether you were still interested I just talked on and on in this fashion. As another sign of the asymmetry between us, if I leave the room after this talk, I would be extremely unlikely to be able to recognize a particular one of you three months from now, though you might well be able to recognize me.

What I am trying to get at here is that while you would normally want a conversation to involve a more or less equal exchange of attention, in the special circumstances that you are listening to a speaker, your feelings about what is a fair exchange are altered. What I would suggest is going on is less that I am providing you with information that you deem in advance will be of value, than that I am offering you individually the illusion of my full attention. I don't claim to be very good at this, but what I have done to some extent is to set up some expectations in you about what I will get to by the time the talk is finished, and any sense of progress towards that goal then feels as if I am filling your need, even though it is a need I have subtly created. (Any speaker must somehow do this, of course, to hold attention.)

If rhetoric is the art of persuasive speech, then anyone who speaks or writes or seeks attention in any way has to become something of a success in the special rhetoric of persuading listeners, readers, and so on, that he or she is meeting their individual needs, when in fact some of these needs have been artfully set up in advance [ 5 ]. You want to know what I am driving at, for instance, because I have already provided clues galore that I am driving at something that should matter to you.

My success, if any, in meeting these expectations I have myself set up in you will appear to be attention - call it illusory attention - that flows from me to you. That helps create an apparent equality of attention, and it can in fact go beyond that to create a feeling of obligation on your part or the part of other readers or listeners. The audience members can each feel they have not paid as much attention to a speaker as the speaker has paid personally to them, even though, in a very real sense the reverse is closer to the truth. The speaker may still not know them from Adam though they have the speaker's visage, voice, and thoughts permanently etched in memory.

A Miniature Working Model
And now, just a few more quick points about this conference. First, the whole conference works pretty much as an attention economy. While you are here, your main concern is how you pay attention and where you pay it, perhaps whether you get enough in return to have a chance at being one of the conference stars, perhaps only through the brilliance of the questions you ask. Even between sessions, the exchange of attention is what mostly tends to occupy people at a conference. Of course, there are material considerations, such as having enough to eat, a comfortable chair, etc. But they tend to be secondary issues, taken for granted, and not occupying much attention. We are living a temporary attention economy in miniature right at this moment.

It bears repeating: We are living a temporary attention economy in miniature right at this moment.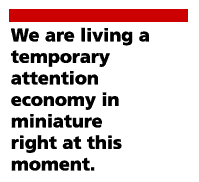 It should be evident by now that everyone has always lived with some degree of an attention economy, but through most of human history it hasn't been primary. Material needs and the production of material goods or the provision of purely material and basically impersonal services such as railways held sway. Even fifty years ago, the percentage of the American population that could take basic material needs for granted and didn't work directly in factories or on farms was much smaller than it is today.
If you look at how you live your life when you are not attending this conference, you will probably see that quite a bit of what you personally do is better characterized as involving attention transactions than monetary transactions. You most likely make many more decisions every day about where and towards whom your attention should now go than about where your or anyone else's money should go. It is an issue every time you get a phone call, receive a memo, see someone you know waving at you, decide whether to go to a movie, or surf the Web, to list just a few examples. You are probably quite concerned too with getting attention in one way or another, or perhaps helping someone else get it. In this you are typical of a growing proportion of our society, and indeed of almost every sizable society on this globe now.

A Material Economy Falls Victim to Its Own Success
The simple fact, which I have no time to discuss at any length, is that compared with our capacity to produce material things, our net capacity to consume those things can no longer keep pace. Thus fewer and fewer of us, on a percentage basis are involved in producing standard items than ever before, and this is true despite the fact that per capita consumption of material goods keep rising. It just cannot rise fast enough to keep pace with possible production. There just is not enough work of the older kinds to keep us as busy as we once were. So, for example, actual manufacturing employment as a fraction of the total population continues its slow decline. Even in so-called developing nations, the Green Revolution in agriculture has led to the same sort of decline in the number employed producing material things, including food crops.

Yet strangely, we are all busier than ever. In fact, in the light of what I have been saying so far, that is not so odd. It is precisely because material needs at the creature comfort level are fairly well satisfied for all those in a position to demand them that the need for attention, or what is closely related to attention, meaning or meaningfulness of life, takes on increasing importance. In other words, the energies set free by the successes of what I refer to as the money-industrial economy go more and more in the direction of obtaining attention. And that leads to growing competition for what is increasingly scarce, which is of course attention. It sets up an unending scramble, a scramble that also increases the demands on each of us to pay what scarce attention we can.

And because we all need some attention, as competition for it rises, the effort begins to take on still more importance. When real attention of the right sort is unavailable, one has to make do to make do with the illusory kind, which comes through an increasing variety of media: paperback books, sound recordings, movies, radio, magazines, TV, video, and most recently computer software, CD-ROMs and the Web.

It's Not for Productivity
But the longing to get real attention and lots of it is only intensified by that experience. If the average kid today at age twenty has seen over 30,000 hours of TV, and, if, as is often suggested, TV offers young viewers role models for acceptable behavior, then the one thing everyone visible on the tube has in common to model is going after attention and getting it. This is also what is universally modeled by rock stars, successful athletes, politicians, and to a lesser degree even by school teachers and college professors.

So it is no coincidence that some of the most popular uses of computers, fax machines, networks, phone systems, etc., have more to do with getting attention than with directly aiding what they are supposedly about, increasing productivity of an organization or society as a whole [ 6 ].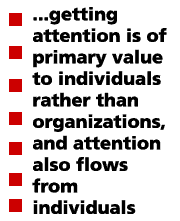 For an important truth is getting attention is of primary value to individuals rather than organizations, and attention also flows from individuals. This conference is sponsored by several organizations, most notably Harvard University, and quite possibly additional organizations have sent more than one attendee apiece. However, within the confines of the conference, attention flows primarily irrespective of organizational affiliation.
If you are after attention, you use whatever organization you are part of as a stage upon which to perform for as wide an audience as you can manage. The Web and the Internet fit well in this model. The physical walls and barriers that might once have defined a university, a government bureau or an industrial corporation, making outside and inside sharply distinct, are pretty much no barriers at all on the Web or the Internet, or even on a phone system equipped not with a central switchboard allowing an operator to direct every incoming call but, as most are today, with direct inward dialing. You often don't even know what organization goes with the number you are dialing, the e-mail message you are responding to or the particular Web site you have been linked to.
In a full attention economy practically all organizations will be basically temporary, either communities in which attention is shared around pretty equally, or, more often, entourages of fans who form around one or a few stars to help them achieve the performances they are attempting. Think of the groups that come together to make a movie or to create a new piece of software, etc. More often than not, a few stars dominate the process; in the case of a movie, it is not only the main actors, but the directors, writer, producer, and possibly the cinematographer, the chief editor, and a few others. If the movie is to be made, everyone else involved focuses their attention on these stars; afterwards, the stars usually go their separate ways, bringing together different entourages for their next performance.

4. On attention's scarcity and its economic importance, see also Michael H. Goldhaber, 1989. "Equality and Education in America Now," In: Education and the American Dream, H. Holtz, I. Marcus, J. Dougherty, J. Michaels, and R. Peduzzi (eds.), Granby, Mass.: Bergin & Garvey, Chapter 6, pp. 70-76; Michael H. Goldhaber, 1992. "The Attention Society," Release 1.0, ( 26 March), No. 3, E. Dyson (ed.), New York, EDventure Holdings, pp. 1-20; Michael H. Goldhaber, 1992. "Attention: The System of Post Industrialism?" Z papers, Vol. 1, No. 2 (April-June); and, Michael H. Goldhaber, 1996-97, Web site: http://www.well.com/user/mgoldh/
I still remember the thunderclap of insight that attention, not information is the key to the new system, a thought that struck me in 1984. While the details I present about the new economy stem from my own explorations, the fact that the following people, among others, have independently arrived at similar conclusions about the economic centrality of attention scarcity adds weight to the argument. See, for example, Richard Lanham, 1994. "The Economics of Attention," Proceedings of 124th Annual Meeting, Association of Research Librarians, Austin, Texas, http://sunsite.berkeley.edu/ARL/Proceedings/124/ps2econ.html or W. Thorngate, 1988. "On Paying Attention." In: Recent Trends in Theoretical Psychology, W. Baker, L. Mos, H. VanRappard, and H. Stam (eds.), New York: Springer-Verlag, (pp. 247-264), or W. Thorngate, 1990. "The Economy of Attention and the Development of Psychology," Canadian Psychology/Psychologie Canadienne, Vol. 31, pp. 262-271.
5. The rhetorician Kenneth Burke (in his 1931 book Counter-Statement, New York: Harcourt, Brace, p. 157) describes literary form in a very similar manner: "Form in literature is an arousing and fulfilling of desires."
6. Controversy continues to swirl around this point. It is argued at length by Thomas K. Landauer ( in his 1995 book The Trouble with Computers, Cambridge, Mass.: MIT Press) among others. Erik Brynjolfsson and Lorin Hitt (1995, "Information Technology as a Factor of Production: The Role of Differences Among Firms," Econ. Innov. New Techn., Vol. 3, pp. 183-199) present data revealing an overall positive correlation between total amounts of spending on information technology and total output for Fortune 500 companies. However, they do not show an increase in labor productivity per se, as is commonly presumed to be the case. What is indisputable is in the two decades since the introduction of the personal computer and related technologies, national measured productivity growth was lower than in the two decades following World War II, when such technology was either non-existent or much more limited. That is totally the opposite from what intuitive estimates of the value of these technologies would suggest and what has repeatedly been predicted.
While it would be impossible to thank everyone who has contributed to this lengthy project, I would like especially to thank Anatole Anton, Sandra Braman, Erik Brynjolfsson, Esther Dyson, Rishab Ghosh, William Gladstone, Nat Goldhaber, Peter Oppenheimer, Bruce Sterling, Edward Valauskas, and Terry Winograd for comments and/or encouragement that aided in the writing of this article. In addition I would like to thank Ilene Philipson. No one on this list should be held responsible for anything said here, however.